"Build your own dreams, or someone else will hire you to build theirs" - Farrah Gray
Introduction:
Good cash flow is essential to the financial health of your business. In finance terms, cash is comparable to food - without it, your business will run into many health problems and eventually starve. Cash flow problems are often cited as one of the main reasons that small businesses fail, so you need to make this a priority. We've put together a list of the most common cash flow mistakes business owners make so that you can avoid these traps and keep your company in good financial stead.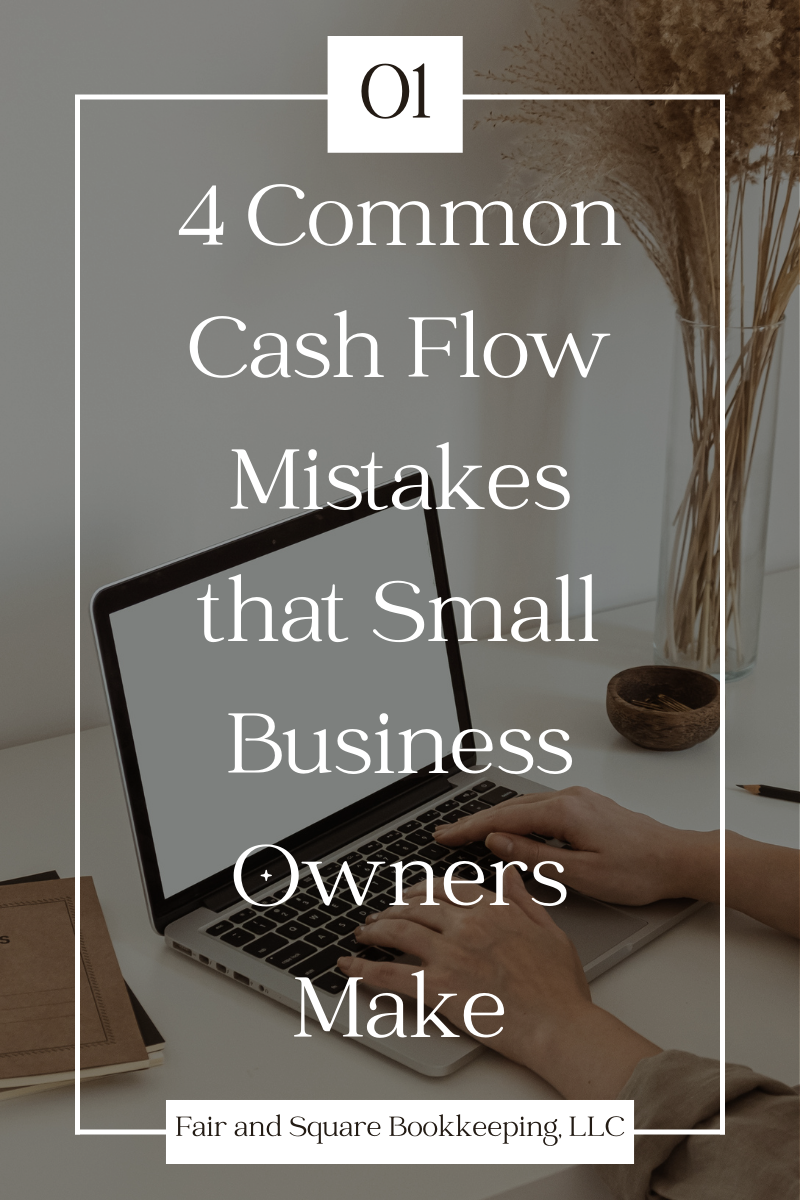 With that said, here are 4 common cash flow mistakes that small business owners make:💲
1. Unrealistic Budgeting
Many small business owners underestimate how much it costs to get started, and this can lead to an array of cash flow problems. If in doubt, always overestimate your costs in order to avoid any nasty surprises.
Furthermore, if you underestimate how long it will take your business to become profitable, you may find yourself facing some serious cash flow problems. It's important to create a realistic time frame for your business to reach profitability. Remember to account for seasonal peaks and troughs, too.
Many small business owners delay hiring an accountant until after they launch, but working with a quality accountant who has experience of your industry can help you to create a realistic budget that will save you a significant amount of time and money in the long run.
2. Not Creating a Cash Flow Budget
In addition to a business budget, you should create a separate cash flow budget so that you can understand when money will be flowing in and out of your bank account and plan accordingly. Money tied up in unpaid invoices is no good to you when your suppliers require payment right now. You must ensure that you always have enough cash to continue operations, so creating a cash flow budget is vital.
3. Slow Invoicing
One of the simplest ways to ensure a healthy cash flow is to get paid on time. Of course, this isn't always 100% within your control but there are plenty of things you can do to encourage your clients and customers to pay you faster.
Firstly, when onboarding a new client, make sure that you hash out payment details straight away so that both of you know what to expect. You should both understand:
It's also worth checking who you should contact to handle any potential problems that may arise.
Secondly, send invoices on time and ensure that all of the details are correct. This will prevent a time-consuming back-and-forth communication to straighten out any mistakes.
Finally, keep a close eye on deadlines and don't be afraid to send out a polite but firm reminder to customers who are cutting it fine. You may also want to consider introducing a late payment charge to incentivize them to cough up on time but be sure to give your customers plenty of notice.
4. Not Having a Cash Reserve
Having a cash reserve is imperative for good cash flow management, but many business owners skip this crucial step and then find themselves in hot water later on. In any given business, unforeseen costs will arrive sooner or later and it's important to prepare for this by creating a cash reserve. This way, you can smooth over any cash flow issues without going into debt or suffering an extreme amount of stress.
Summary:
Maintaining a healthy cash flow is one of the most difficult parts of running a business, but it's also incredibly important to the financial health of your company. Set yourself in good stead by planning carefully and creating a realistic budget to help you avoid overspending. Remember that cash flow and profitability, though related, are not the same thing and so it's prudent to create and monitor a separate cash flow budget, too. The importance of good cash flow management really can't be overstated, so when in doubt it's always best to defer to a quality accountant for help with this essential process.
---